NEWS
Paying Extra to Heal?
FUT vs. FUE
No Refund Policy
In and Out
FTC Charges
Webmaster Warning
Ad Nauseam Bosley infomercials loop the same material and you can spend up to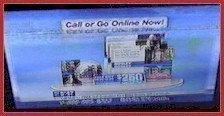 half an hour without learning anything. The examples leave out important details like what type and how many procedures were performed and the costs. The slickly-produced videos can employ several tricks to boost the impression of results such as makeup, dyes, topical concealers (e.g. keratin fibers or fake hair), creative hair styles, combovers, and selective lighting and camera angles.
Expensive Rent, Cheap Advice
Those expecting accurate information from medically-trained staff may be disappointed with what they get... more


Who is Bosley?

The Bosley Medical Institute, or Bosley, is named after founder and TV pitchman Larry Lee Bosley whose pattern of deceptive advertising and medical board violations made him the most widely disciplined physician in the U.S. -see History
Ad Nauseam cont. The paid-for testimonials fail to mention (in addition to how much compensation was received) other treatments and drugs that were used, procedures performed by other medical groups and hair products they were using.
(Bosley spends as much as a third of its revenue on advertising and promotion, when it has reduced the ad budget sales have dropped dramatically)

Bosley Sells Drug After Denouncing It After slamming the drug finasteride (a.k.a. Propecia) for having vicious side effects including impotence, or Erectile Dysfunction, Bosley now promotes and sells it, leaving consumers scratching their heads. Bosley's Negative Stance on Propecia

Many are surprised at how invasive these procedures can be and wonder why they weren't warned -see Consumer Guide

If you want to share a negative experience about Bosley, email: info@bosleymedicalviolations.com

FEEDBACK

A Warning to Newbies About Bosley You have stumbled across one of the worst, most heartless companies there is. Take your virgin heads and run away now while you still can! (Note to noobs: A "virgin" head is one that has not been cut up by surgery -something that is very good to have) If you have not proceeded yet thank your lucky stars- you may have avoided one of the biggest traps of your life. For clarity, consider the following questionnaire... more

The Procedure Was Very Uncomfortable I was supposed to be able to return to work the next day, but my face and eyes were swelled shut and enlarged and I had two black eyes. My children begged me to stay home. After everything the've done I dont look any different. I am still paying for the work they did and do not have the desired results promised me after all this time.

No Redo I went to Bosley to have treatment for thinning hair in the front of my head. I paid $12,000 for the procedure. I returned in one year. I had pictures to show what I looked like when I started with them, and what I look like now. The Doctor who saw me said they would do it over, at no charge. After careful consideration with my personal physicians, I decided that it would just be too much for me to go through one more time. I asked for my money back. Needless to say, I still have not received a penny from them.

Paying Extra to Heal? Can't help but feeling gouged...the Bosley office charged me over $500.00 in extras for meds in what they call a post op healing "kit", which I would have thought most doctors would have included for free. I later found out by reading others experiences that it may have been optional. I guess the lesson here is not to trust anyone and do your research first. more reviews

Tip: There are many online communities with reviews for Bosley and other medical groups. Try the term "hair transplant forum" with a search engine.

FUT Faults: Bosley Reveals Flaws of its Follicular Unit Transplant, July 2014. This information doesn't appear in most ads so consumers should be aware that in the course of promoting other services Bosley (perhaps inadvertently) has revealed problems with its standard surgical procedure, suggesting that it's not for: A) Those who want to wear their hair short; B) Those who do not want a linear scar; and C) Those with a limited donor supply or scalp elasticity *

It further indicates that the FUT procedure offers drawbacks such as scalpel incisions, linear scarring, stitches, and changes in donor area appearance, as well as slower recovery time and more downtime.

A quarter century after other doctors started using FUE techniques (Follicular Unit Extraction) it appears that Bosley may now be trying to emulate them. To learn about the differences between FUT and FUE consumers can start with a Wikipedia page. * Keep in mind that every patient has a finite or limited donor supply.

Plug Pulled on Aderans Research Institute Hope turned to disillusionment and anger for some who believed promises made by Ken Washenik, Bosley's Medical Director, about new technologies ARI and Bosley were bringing to market. Aderans suddenly liquidated the assets of its hair multiplication division without explanation (although during Phase 2 trials it was realized that the process couldn't create new hairs but instead might only help prevent follicles from future loss).

For more than a decade Washenik accepted accolades and generated media coverage and chat room buzz while leading on industry insiders and consumers with claims that their panacea for hair loss was just around the corner.

In and Out Some warn that Bosley's assembly line methods can cause doctors to become unaware of what's going on. If you worry about their ability to respond in an emergency this will not comfort you: A male patient ended up with permanent disability after he had a stroke during a Bosley procedure and the staff failed to take action, according to a civil jury*. The Plaintiffs said that during the procedure the patient began convulsing yet the procedure wasn't stopped and the patient was sent home as usual though he could not walk or talk. When the patient's wife phoned the Bosley office for help they told her that his failure to come out of anesthesia was a result of pain medications and "not to worry." *Los Angeles Superior Court BC445812 2010-2013 (thanks to juryverdictalert.com)

FTC Settles Charges Against Bosley The Federal Trade Commission has imposed restrictions on Bosley after alleging it shared pricing information with competitors, an illegal practice that can result in higher prices. Article
On a related note Bosley's parent company, Aderans Co. Ltd. of Japan, has acquired Hair Club, known for its infomercial-marketed hair "systems". Consumers should know that Hair Club is now involved in the practice of steering clients over to Bosley offices for surgery.
Webmaster Warning When webmasters of a site with negative reviews rebuffed Bosley's recent attempts to get them to enter negotiations to sell it, Bosley's legal department hired third parties who visited the webmasters at home on numerous occasions expressing their annoyance with the site (including threats of litigation) and hand-delivering a mocked up version of it with the changes they wanted.
If you have more information about Bosley's efforts to censor the Internet please send to info@bosleymedicalviolations.com